MALDON 1969
Eastern National
List No 3 Maldon April 1969
3'4 ¾" x 4 ¾" vertical measured from bottom of one line to bottom of following line. Cloth blind manufactured by Norbury Brothers Ltd. Altringham
No indication of bus fitted to. Wear would suggest that the bus spent most of its time on the Maldon - Chelmsford service.
The first display has been added locally. The black that follows it is paint but unclear if it has been added at the same time or earlier as there was no black blank. Althorne onwards attached at end of blind, appears to be a professional job, except Grays, Little Waltham and Roxwell which are a stencil.
Some information is in a small font size split onto two lines following the main destination, the line split is shown by the following symbol * .
The original displays are justified, ie letters spaced so that display uses the full width of the display. Unfortunately it is not possible to show these as such and these displays are justified left. Displays added at a later date are centred and are shown as such.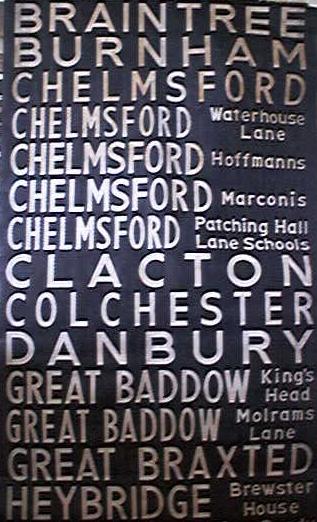 BROOMFIELD The*Angel
~black blank~
PRIVATE
SCHOOLS SERVICE
WORKS SERVICE
DUPLICATE
BASILDON Bus*Station
BICKNACRE
BRADWELL King's *Head
BRADWELL Power*Station
BRADWELL Green*Man
BRAINTREE
BURNHAM
CHELMSFORD
CHELMSFORD Waterhouse*Lane
CHELMSFORD Hoffmanns
CHELMSFORD Marconis
CHELMSFORD Patching Hall*Lane Schools
CLACTON
COLCHESTER
DANBURY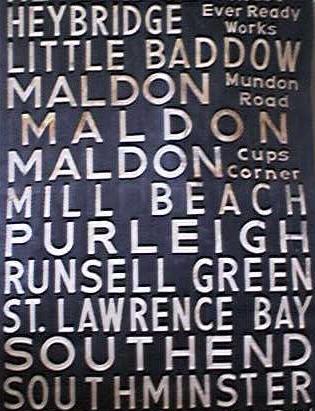 GREAT BADDOW King's*Head
GREAT BADDOW Moltrams*Lane
GREAT BRAXTED
HEYBRIDGE Brewster*House
HEYBRIDGE Ever Ready*Works
LITTLE BADDOW
MALDON Mundon*Road
MALDON
MALDON Cups*Corner
MILL BEACH
PURLEIGH
RUNSELL GREEN
ST. LAWRENCE BAY
SOUTHEND
SOUTHMINSTER
SOUTHMINSTER Steeple Road*Corner
SOUTH WOODHAM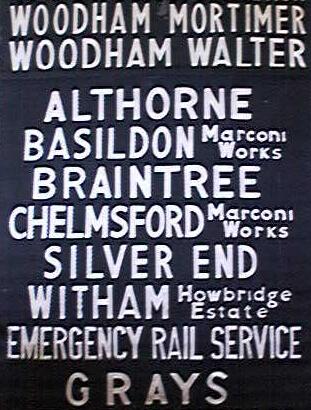 STOCK
WITHAM
WITHAM Rail*Station
WOODHAM MORTIMER
WOODHAM WALTER
ALTHORNE
BASILDON Marconi*Works
BRAINTREE
CHELMSFORD Marconi*Works
SILVER END
WITHAM Howbridge*Estate
EMERGENCY RAIL SERVICE
GRAYS
LITTLE WALTHAM
ROXWELL