Eastern National
List No 8 - Colchester April 1970
White on black, the blind is cloth 3' 4½" wide and the depth of each display 4¾", made by Norbury Brothers Ltd. Altringham.

This blind was originally fitted to Bristol FLF6G/ECW H38/32F 2729(176XNO). New as 1600 in January 1962,renumbered 8/64 and withdrawn in 1977 going to P Sykes (Dealer), Blackerhill in July of that year and to Barraclough (Dealer), Carlton, a month later for scrap.

Marked on the foot of the blind is "Ex veh 1326 transfred to BD 2/8/72 No replacement Stanway added"

All displays are fully justified except Private, Chappel, Clacton, Dedham, Grays, Ipswich, Lawford, Maldon, Sudbury, Tiptree, Walton and Mistley which are centred. No black blanks.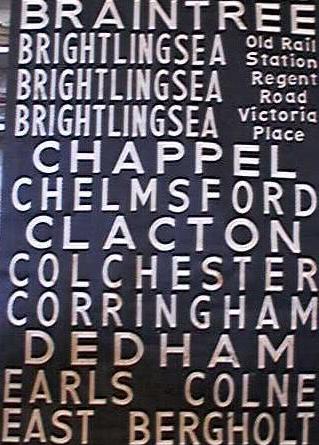 PRIVATE
DUPLICATE
WORKS SERVICE
SCHOOLS SERVICE
BASILDON Bus*Station
BISHOPS STORTFORD
BRAINTREE
BRIGHTLINGSEA Old Rail*Station
BRIGHTLINGSEA Regent*Road
BRIGHTLINGSEA Victoria*Place
CHAPPEL
CHELMSFORD
CLACTON
COLCHESTER
CORRINGHAM
DEDHAM
EARLS COLNE
EAST BERGHOLT
EAST MERSEA
EASTHORPE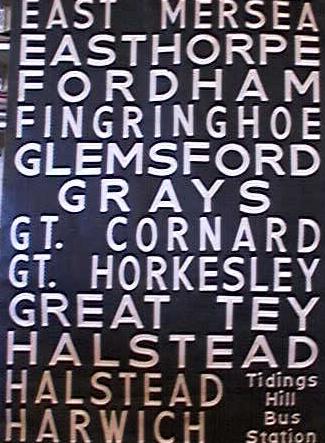 FORDHAM
FINGRINGHOE
GLEMSFORD
GRAYS
GT. CORNARD
GT. HORKESLEY
GREAT TEY
HALSTEAD
HALSTEAD Tidings*Hill
HARWICH Bus*Station
HARWICH Quay
HOLLAND Brighton*Road
KELVEDON
IPSWICH
LANGHAM WICK
LAYER ROAD
LAWFORD
LEXDEN Church
LEXDEN Norman*Way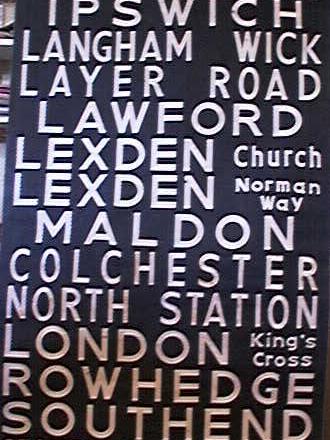 MALDON
COLCHESTER
NORTH STATION
LONDON Kings*Cross
ROWHEDGE
SOUTHEND
STANFORD - LE - HOPE
STANSTED AIRPORT
STOKE - BY - NAYLAND
STONES GREEN
SUDBURY
TILBURY FERRY
TIPTREE
TOLLESHUNT KNIGHTS
UNIVERSITY OF ESSEX
WALTON
WEST BERGHOLT
WEST MERSEA
WEST MERSEA The*Hard
WIVENHOE
WIVENHOE Rail*Station
WORMINGFORD
EXCURSION
STANWAY ZOO
MISTLEY